A recent Pew Research Center survey found that Muslims in the United States currently face the most discrimination of any group. The American Civil Liberties Union says that recently "politics of fear have been used to justify discrimination against Muslims." This has resulted in "unlawful profiling and exclusionary immigration policies" as well as rising hate crimes.
In this environment some ISKCON members are reaching out to their brothers and sisters in the Muslim community. "ISKCON devotees are well aware of the dangers of being misconstrued and persecuted in various parts of the world," says ISKCON Communications Director Anuttama Das. "Therefore it's important that we are proactive in protecting the religious freedoms of all."
He adds: "It's very unfortunate that extremist voices in the Muslim community are becoming emblematic of Islam, when the vast majority of Muslims are devout, caring and contributing members of the greater society."
To do its part in building relationships with the Muslim community, ISKCON of Washington D.C. has been holding annual Vaishnava-Muslim Dialogues for the past six years. The most recent one was held in Rockville, Maryland on March 18th  with nearly twenty scholars, religious leaders and other practioners from both faiths.
Over the years, topics have included love of God, the Holy Name, peace-building, social justice and the soul. Most importantly, the Dialogues have already made some lasting friendships between the local Muslim and Vaishnava communities.
"A few Muslims even attended our ISKCON 50th gala, which was mostly an internal celebration with close friends and a few VIPs," says ISKCON Communications assistant director Amrita Hari Dasi. "Islamic scholar Dr. Sanaullah Kirmani was one of the keynote speakers at the gala, so I think that says a lot about what Anuttama Prabhu and his wife Mother Rukmini are trying to do."
More recently, Anuttama and other Krishna devotees participated in a special Hindu-Muslim relations issue of The Muslim World, a well-regarded scholarly journal which was founded in 1911 and reaches 65 countries.
Shaunaka Rishi Das, director of the Oxford Centre for Hindu Studies co-edited the issue with Lucinda Allen Mosher, an interfaith activist and faculty member at Hartford Seminary, which has sponsored the journal since 1938.
Anuttama Das partnered with Dr. Sanaullah Kirmani on an article for the issue about their Vaishnava-Muslim Dialogue as a model for reducing religious tension and conflict in the world.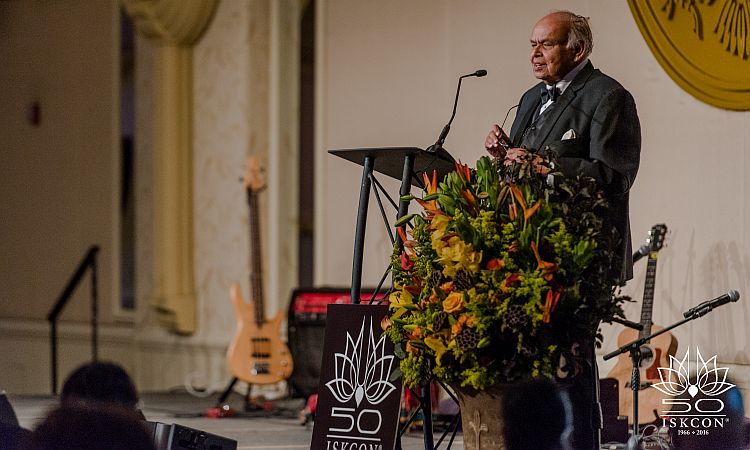 In the article, they talk about how they met and formed the Dialogue, and discuss the realizations from two specific Dialogues in-depth: "The Name of God" and "Theological Foundations for Interfaith Dialogue." They also explain their intention to share and learn things from one another that may increase their own understanding of the Divine.
"It was a great pleasure for me to co-author this article with Dr. Sanaullah Kirmani," Anuttama says. "He has been a friend of ISKCON for many years. As a student at Harvard University, he heard Srila Prabhupada speak at the university, and has been appreciative of ISKCON and Prabhupada's teachings ever since."
Meanwhile Princeton University Coordinator for Hindu Life Vineet Chander (Venkata Bhatta Das) contributed an article on a famous passage by Vaishnava saint Bhaktivinode Thakur:
"When we are present in the houses of worship of other religious practitioners during their rituals, we should remain respectful and reflect upon the following— Here, before me, is my very own God being worshipped in a different form than that to which I am accustomed. Because of my different training and practices I am unable to completely understand this foreign worship, but witnessing it gives me even more affection for my own beliefs and practices. God is one. I prostrate myself before this symbol of the divine that I see before me. I make obeisance to my Lord who is made manifest in this alternate form for my benefit and the benefit of others."
Chander presented this incredibly inspiring quote by the Thakur as an alternative devotion-based model for Hindu-Muslim Dialogue.
"Right now better understanding between Muslims and other people of faith is crucial," he says. "I am deeply concerned for, and my heart goes out to Muslim Americans right now in a time of almost unprecedented fearmongering and divisiveness in this country. At the same time, I know I can be a real friend and supporter of this community beyond slogans and superficialities when I'm actually in dialogue with real practioners and understand where they're coming from."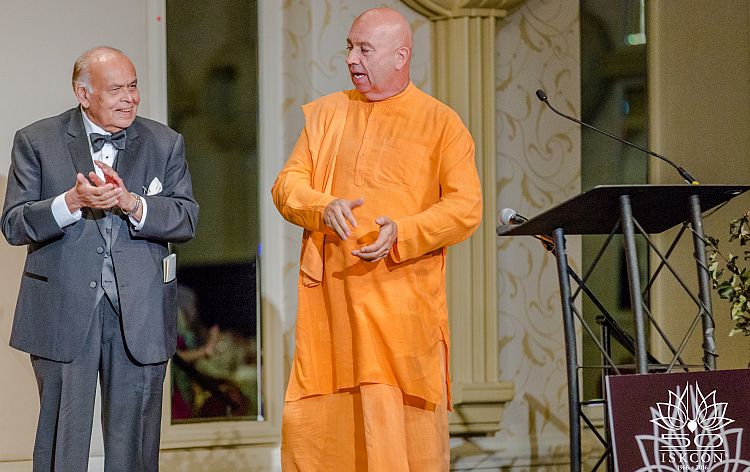 According to Anuttama, ISKCON has an important global role to play in promoting dialogue, mutual respect and understanding with the Muslim community.
"Muslims are well-known for their monotheistic focus, and the Vaishnava community shares much in common with them through our devotion to the Personality of Godhead," he says. "We also have much work to do in promoting shared values of service to God, study of scripture, and promoting God-centric values."
"Again, it's sad that extremist voices have dominated the world's perception of Islam," he concludes. "My personal experience with many Muslim friends is that they are deeply spiritual, moral people, and knowing them has enhanced my own Krishna consciousness."
 Free access to the articles by Anuttama Das and Dr. Saunallah Kirmani, Vineet Chander (Venkata Bhatta Das) and others is available until Dec 31st, 2017 here.