ISKCON Baltimore's Jiva Daya Sankirtana Team has been distributing Srila Prabhupada's books in many creative ways over the years, including placing them in prison libraries and motels. This year so far, for instance, they have put 500 books in prisons, and 13,000 Bhagavad-gitas in motel drawers.
In June 2016, after brainstorming more ways to share Prabhupada's books, a five-person team was created to place them in hospitals and hospices.
Bhakti-lata Dasi, Tarini Ganga Dasi, Prema-Dhama Das, Shyama-Bhakti Dasi, and Bhaktin Hema all have jobs and families, and do the service in their spare time.
"One of our main inspirations was the book Life's Final Exam: Death and Dying from a Vedic Perspective, edited by Giriraja Swami," says Tarini Ganga. "It describes how in hospitals and hospices people are suffering so much, and how their families are so emotionally drained. Reading this description, we were inspired to approach health centers so that patients can read some spiritual knowledge and at least feel some kind of peace before they leave."
So far this year, the team has placed 284 books in hospitals and hospices around the Maryland area, as well as in Virginia, West Virginia, Michigan, New York and North Carolina.
Through them Prabhupada's books have found their way into prestigious establishments like Walter Reed National Military Center, Malcolm Grow Air Force Medical Center, NIH Bethesda, and Duke University Hospital in Raleigh, NC.
During this Christmas marathon, the team's goal is to give their transcendental gifts to the people who need them most in 36 hospitals and hospices.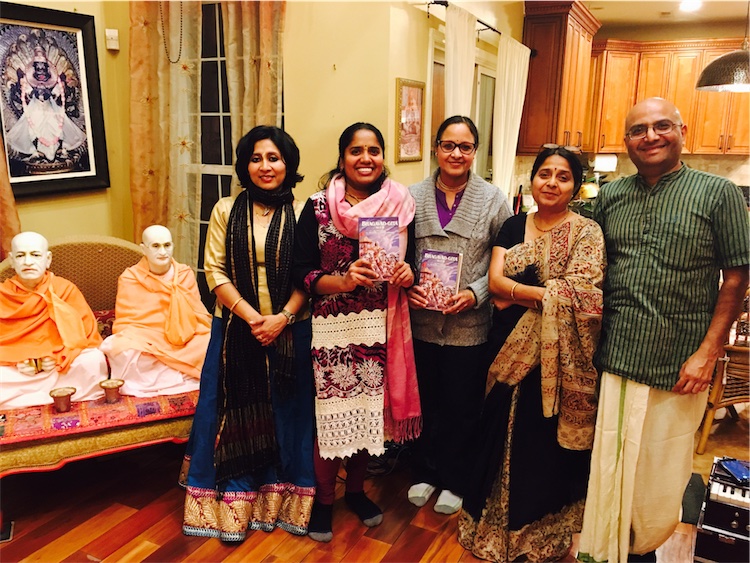 The hospital team gets ready to go out and deliver books (from left to right) Tarini Ganga, Shyama Bhakti, Bhakti-lata, Vidarbha-Suta  and Lokadhyaksa
The project is a charitable effort, with all the books given for free. Everything is funded by donations from ISKCON Baltimore's congregation, as well as by income from a prasadam booth run at local festivals.
"We are heavily dependent on sponsors," says Sankirtana Leader Lokadhyaksha Das. "The more sponsors we get, the more books we can place."
Devotees generally write to or call hospital chaplains, then ship out the books. Sometimes, with more local hospitals, they visit in person. Books are typically placed in the chapel, chaplain's library, in meditation or prayer rooms, or in the chaplain's book cart which goes from bed to bed.
"We've heard back from several chaplains who appreciate our books," says Bhakti-lata Dasi. "The chaplains we speak to are very appreciative of our service and say that these are valuable resources to effectively serve their patients according to their needs and beliefs."
There are many stories illustrating just how delighted chaplains are to receive Prabhupada's books.
"The Suburban Hospital in Maryland were initially hesitant when I called," Bhakti-lata says. "So I told the chaplain I could come and show her the book, so she could decide. As soon as she saw the Bhagavad-gita As It Is, she was very happy. She looked up at the sky and said, 'Thank God for this book! This book, people will take!' And then she started keeping it everywhere in the hospital."
Bhaktin Hema recalls that when she called the Valley Hospital in New Jersey to follow-up on a package she had sent, the chaplain told her that once he had started reading The Science of Self Realization, he could not put it down. "I just kept turning the pages, one after the other," he said. "I felt compelled to read the book straight through."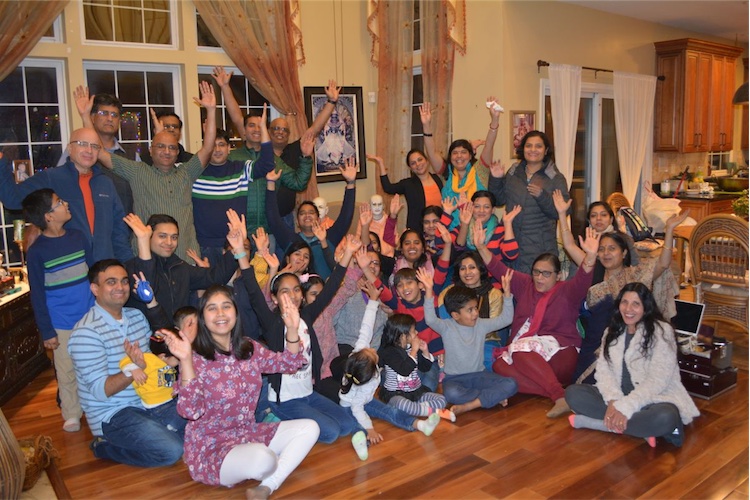 The Jiva Daya Sankirtana team at ISKCON Baltimore
On another occasion, devotees were disappointed to see that New York Presbytarian Hospital had sent Srimad Bhagavatam Canto 1 Part 1 back. When they called to find out if there was something wrong, the chaplain told them, "It was so interesting, I just could not stop reading it until I had finished the whole book. It says this is book one – where is book two?"
There are many other cases of such gratitude. "Hospices, for example, are very moved when we send them books," Tarini Ganga says, "because people usually don't care about hospices and never call them."
The service is just as impactful on the devotees doing it. "It makes me feel part of the sankirtana movement, and connected to my guru maharaja and Srila Prabhupada," says Bhakti-lata.
"It is very humbling that I have received this kind of service project, where I can reach out to people during their greatest time of need," adds Bhaktin Hema.
According to Lokadhyaksa Das, the Jiva Daya Hospital and Hospice Team is just getting started. "We want to increase this distribution to all the hospitals across the country," he says. "And we're slowly working towards that goal."
 * * *
If you'd like to help the Jiva Daya Sankirtana Team send Prabhupada's books to hospitals and hospices, please sponsor any amount through PayPal here:
https://www . paypal . com/cgi-bin/webscr?cmd=_s-xclick&hosted_button_id=DBJYCS3LQLTQJ
OR mail a check (payable to ISKCON Baltimore) to: 21107 Tall Cedar Way, Germantown, MD
[original article found here]